Val's GF Cafe
Facebook might have pros and cons, but when the online community comes together in order to save a local small business, it's all worthwhile.
I discovered Val's GF Cafe because of a Facebook post in one of the local mom groups: a local business was drowning and the community stepped up!
Read more about Val's GF Cafe… and if you are local to Boca Raton, Florida, drop by and support them!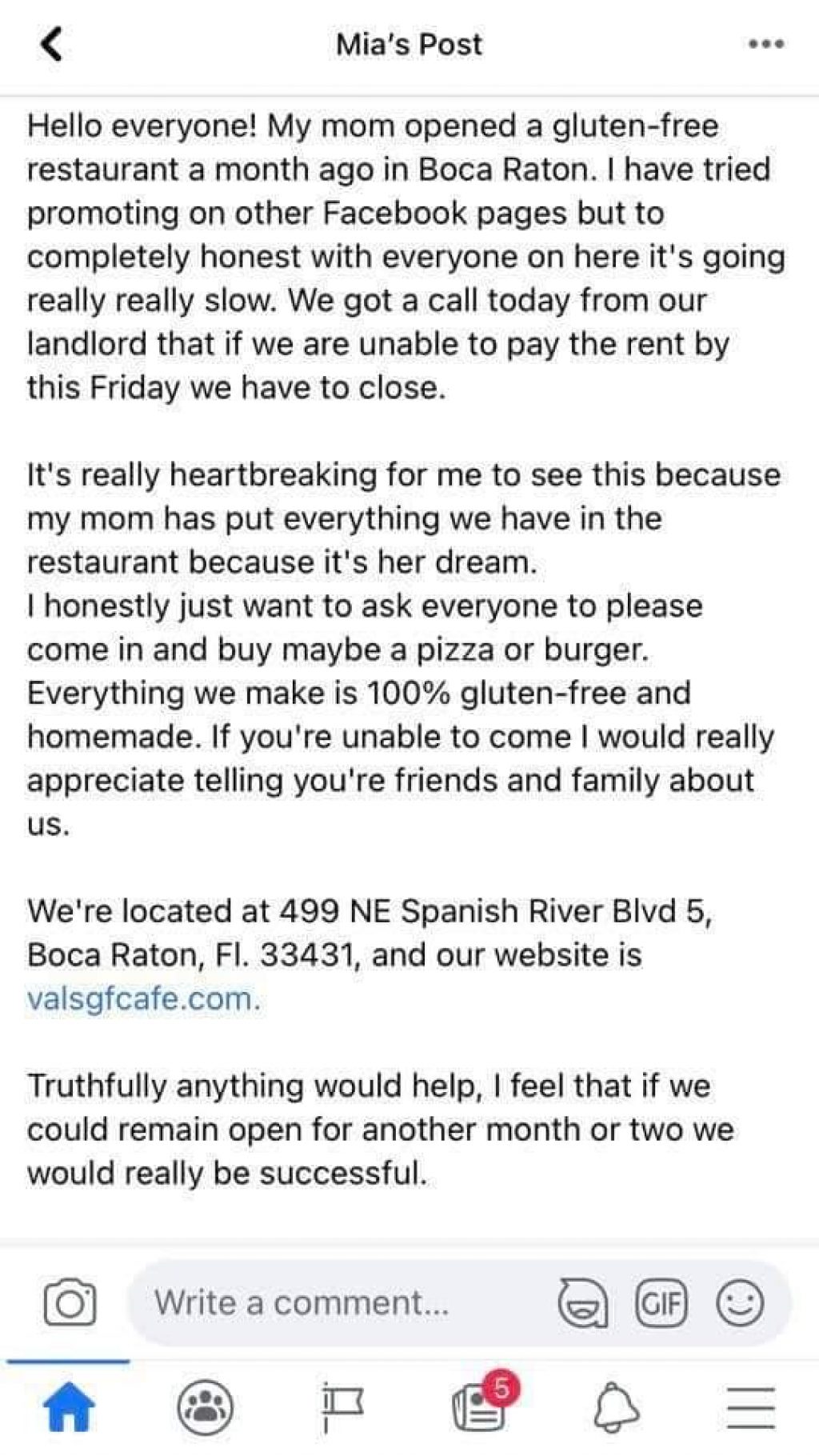 What can you tell us about yourself?
We are a casual gluten-free cafe, where customers can come in and enjoy a croissant or order a pizza to go!
What were the origins of your business?
We wanted to provide the community a place where they can eat and not have to worry about cross-contamination and can come with friends and family.
What aspects of your background have helped you the most?
The owner Valentina (Val), has celiac disease.
What were the main challenges you encountered at the beginning?
Getting customers to come in and aware that we existed.
Who was the most supportive of your idea?
Our family and friends.
Have there been any changes in your business approach after Covid-19?
We opened during COVID-19, so many things are different than what would be seen as normal. Such as paper menus, disposable cups, the use of masks while cooking and serving the customers.
What makes your offer unique?
Our whole menu is gluten-free, we don't even bring gluten into the store, plus everything is handmade!

Do you have any other passions?
My passion is helping people and seeing kid's faces light up when they can choose anything from the menu.
If you could go back in time, what would you do differently?
I would have opened much earlier.
What challenges do you see ahead?
Keeping a constant flow of customers.
What future projects does your business have?
To hopefully grow out of our current location and have to open a new one!
What message would you send to your followers?
You don't have to eat gluten-free to enjoy our food, plus just because it's gluten-free doesn't mean it can't taste amazing!
If you were to define your business in one sentence, how would you do it?
Gluten-free food for anyone!
Val's GF Cafe's Contact Info
Facebook: www.facebook.com/valsgfcafe
Instagram: www.instagram.com/valsgfcafe
Email valscafe.bocaraton@gmail.com
Website http://www.valsgfcafe.com