The Community Marketplace You Need Right Now
A platform where you can turn your hobbies or skills into money
So you can survive and thrive in times of crisis.
Everyone deserves to feel safe
but it's 2020 and the ongoing pandemic is threatening the survival of many families.
Jobs are being lost and income is unpredictable for most.
Are you struggling to keep your business afloat and to be profitable?
Are you struggling to pay the bills?
You are not alone.

If you need new streams of income immediately, don't worry.
We care about you and, to help, we created Utility Avenue:
a community marketplace for you to buy and sell services so you can make money right now doing what you love and know.

Turn hobbies and skills into cash
Reach your whole community when you list your offers.
It's free.
You can buy and sell services in the Utility Avenue community marketplace.
You pay $0.50 cents but only when you sell a service.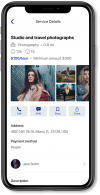 Join the Utility Avenue Community Marketplace
Buy and sell services

What others are saying

Yunett Collera, Hair Stylist
Awesome app and great service.

You can reach any provider directly. I've been using it for a month now and, so far, the service is outstanding. KUDOS!

Natasha Knutson Events
Great to reach a large number of costumers!

It's a great platform to list your services to reach out to a large audience. It connects the service provider directly to the customer, which is a huge plus. I have seen an uptick in my business since I started using this app. Keep up the good work!