Lesette Jackson is in the Spotlight this week.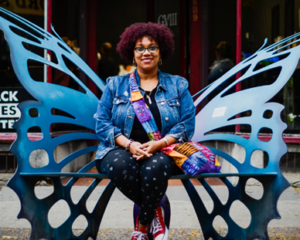 What can you tell us about yourself?
I am Lesette Jackson (known as Lee).
A wellness practitioner, herbalist, healer, and advisor, I launched Conscious Lee in 2015. I am also a paralegal with a health and human services background, and I have worked in the medical field for over 20 years. I make products such as body soaps, body butters, body oils, sea moss, herbal teas, and crystal infused candles.
My passions are my family, nature, spirituality, and helping you live your best life!
What were the origins of your business?
This journey began after a type 2 diabetes and hypertension diagnosis. My doctor gave me 6 weeks to make changes. I realized I was neglecting myself. Then, I implemented detoxes (green smoothies and herbal regiments only), flushed out my system, started going to the gym, and incorporated sea moss and herbs into my diet. I focused on what I was putting in my body, increased my water intake, and eliminated things that were not good for me.
What aspects of your background have helped you the most?
As women, we need to feel better and take care of ourselves. Mom, wife, and daughter roles are taxing because there is so much responsibility. Women have to use nature to help us. We have so many natural remedies. Westernized medication is not effective. Black women need to take advantage of holistic options. Nature is the remedy to all, not prescriptions. I push accurate and beneficial information. I also provide a healthy alternative for cures and prevention.
What were the main challenges you encountered at the beginning?
Being a Latina-Black woman, financing for women of color (banks, credit unions); businessmen who do not take me seriously; lack of support/backing; pushback from those who don't see me equal; those who prefer Westernized medication instead of natural remedies.
Who was the most supportive of your idea?
The most supportive was my immediate family, close friends, and repeat customers.
Have there been any changes in your business approach after Covid-19?
Yes, clients are more conscious of health. People are more interested in alternative wellness options. I have seen an increase in customer interest in holistic options.
What makes your offer unique?
I am honest, and I share my personal experience acknowledging my shortcomings and not hiding failures. I build trust with clients because I have used the products and implemented the recommendations I make to my clients.
Do you have any other passions?
I am passionate about spirituality, my family, and respect for life, all forms of life.
If you could go back in time, what would you do differently?
I would not have ruined my credit!
What challenges do you see ahead?
Rebuilding my credit.
What future projects does your business have?
We are planning a podcast, a new line of products, and a spiritual Spa.
What message would you send to your followers?
Whatever you do, do it consciously.
If you were to define your business in one sentence, how would you do it?
Authentically balance: mentally and spiritually.
Contact Info
www.conscious-lee.com
www.twitter.com/myconsciouslee
www.instagram.com/myconsciouslee
https://www.facebook.com/consciousl33
_______________________________________
Utility Avenue's Spotlight focuses on promoting inspiring businesses every week. For a chance to be interviewed, contact us at support@utilityavenue.com with the subject Spotlight.